4 tags
Dear Clean Beauties I apologise for my mini-break from the blog - but I have been cooking up something very exciting and it has momentarily turned my attention away!  I promise to be back on board delivering new reviews, clean regimes and how-tos very soon, but in the meantime I would be super-duper-with-a-cherry-on-top grateful if you could please complete a survey for me. It will take less...
8 tags
REVIEW: Sans Ceuticals Baobab Regenerating Body...
What: A fast-absorbing, creamy body lotion with resurfacing properties  For: Rapid hydration, and particularly good for smoothing bumpy upper arms Review: This moisturiser was a surprise. The first time I used it, I was pleased with the warm, comforting fragrance and how quickly it absorbed into skin, but wasn't blown away. I kept using it - just a pump or two of product to cover each...
7 tags
CLEAN REGIME: Britanie Faith from Beauty By...
My name is Britanie Faith and I am a Freelance Photographer, Makeup Artist and Skincare Enthusiast Specializing in Non Toxic Products. Creator of Concoctions. Animal Lover. Tea Addict. I am very passionate about Health, Beauty and Photography. I believe in applying and ingesting the least amount of chemicals possible which has lead me to a path of researching and reviewing many organic and non...
9 tags
REVIEW: A Trio of Toners
I've never been one for toners. They always seemed superfluous, and I just couldn't see the point of them. But after trialling this trio of toners, I must atone for my toning distrust. First up, the Balance Refining Toning Mist from Nourish - a nice refreshing toner that is perfect to spritz over the face on a hot days, and a good way to inject a little extra moisture before...
5 tags
CLEAN EATS: Monday Power Smoothie
I'm not a Monday person. Or Tuesday / Wednesday / Thursday person really. But Mondays are particularly bad. The snooze button is usually pressed about 47 times before I actually get up, I then have that internal debate over whether I can be bothered to wash my hair or not (Answer: I can't), and by the time I've showered & dressed I'm usually running about 45 minutes...
"Many controversial ingredients, such as parabens, phthalates, different..."
– Jessica Lafleur, founder and CEO of Stark Skincare Inc
7 tags
CLEAN REGIME: Jessica from Stark Skincare
Jessica Lafleur is a  girl after my own heart. A self-confessed skincare rebel, she set out to create a brand that is  … obsessively natural, simple without being boring, luxurious without being over-the-top, loves to educate, and made specifically for the needs of a city-dweller's skin (and aesthetic).   Stark Skincare ticks all the boxes: squeaky clean & hard working ingredients...
6 tags
GET THE LOOK: Femme Fatale
Because sometimes it's good to be bad…  This look is best with bare skin and minimal contouring: it's all about the red lipstick and a kohl rimmed eye. And the less perfect, the better - a smudged lip or messy eye will leave people guessing what you have been up to… 
5 tags
QUICK TIP: Hand masks
No matter how firm the face, your hands can give away your true age - just ask any Real Housewife. Treat hands to some TLC when you use a face mask by spreading any excess product on the back of hands (exfoliating, moisturising and anti-aging masks are ideal) to keep your paws in perfect condition. Quite a handy little tip! 
13 tags
HOW TO: Get Clear Skin
I am almost guaranteed to receive a question or email from a reader on a weekly basis asking how to clear up skin. It seems that everyone is battling with breakouts that continue to rear their heads beyond the teenage years and well into the twenties and thirties.  I have compiled this 'how to' based on my own experience with my skin - after a relatively clear run in my teens I...
3 tags
TRY THE TREND: Ponytails
High, low, dishevelled, sleek - how do you wear yours? 
4 tags
SIX PICKS: Winter Skincare
I love winter. I love the crisp clean mornings, layers of woolly clothes, and excuse to carbo-load. I don't, however, love winter skin - strange dry patches, red & reactive skin that can't cope with going from hot to cold environments, and the lack of glow that comes from too many days hiding indoors under blankets. Thankfully, there are some lovely products that I have...
10 tags
4 tags
CLEAN REGIME: Kimberly from Kimberlyloc.com
Photo By Denene Brox Photography Kimberlyloc.com has the perfect recipe for a blog: one part natural beauty reviews, a pinch of outfit inspiration and wardrobe snaps, mixed with recipe ideas and the occasional cupcake! As a similarly minded clean beauty aficionado, I couldn't wait to read Kimberly's skincare and makeup picks. Read on to discover this stylish media superstar's...
9 tags
REVIEW: Lina Hanson Global Face Serum
What: Nourishing & restorative serum.  For: All skin types (even oily)  Review: Meet Lina. She's rosehip oil's smarter, harder working, more refined sister. Not to diminish rosehip oil's work at all - it's just that Lina does everything that rosehip oil does, only… better. Skin is smooth. Skin is plump. Skin is glowing.  The brilliant thing about Lina is...
8 tags
GET THE LOOK: Wet & Wild
With wild weather forecast for tomorrow, I'm taking my cue from Rooney & Rachel - a slicked back pony to protect hair from the wind, and soft flushed cheeks to perk up a grey day. Get the look with Youngblood Mineral Creme Blush and O&M Frizzy Logic Shine Serum. 
5 tags
GIVEAWAY: Franc Essential
The temperatures have dropped, and so have skin's moisture levels. To get your skin glowing again, the beautiful Australian brand Franc Essential are giving one lucky reader a Franc Essential Radiance Pack, containing their best-selling serum, cleanser and exfoliant, and valued at $138! I have used Franc Essential products before and all the products are absolutely divine, but the serum in...
sailor-prince asked: I was wondering if you know of any product that is really good at getting rid of blackheads? :/ I don't have a problem with acne, really, but blackheads are the worst, and I've used a bunch of different products and it seems like nothing really helps :/
6 tags
15 tags
CLEAN REGIME: Sabrina from Flora Organica
After a decade of champagne, parties, and general unhealthy living, ex-Parisian showgirl and model Sabrina Jacquier Parr was physically , mentally and spiritually exhausted. Embracing yoga and the holistic healthy lifestyle it promoted changed Sabrina's idea of what she thought it was to be a 'healthy beautiful' person, which led to her founding Flora Organica:  Flora Organica has been a...
7 tags
6 tags
5 tags
TRY THE TREND: Undereye Liner
It's easy, edgy, and makes eyes POP. A thick line under the eyes might sound like venturing into panda territory, but keep it fresh (not frightening) with dewy skin, a pretty flush of colour on the lids, and lightly defined lashes. Is this your new smokey eye?
5 tags
GIVEAWAY: W3LL People from Peace Love Makeup
Peace Love Makeup is  THE destination for your luxe clean cosmetics, stocking brands like W3LL People, Nvey Eco, Alima Pure, Ilia, Revolution, Priti NYC, Scotch Naturals  - basically all my favourite brands in the one spot - and curated by the divine eco organic makeup artist, Marcie Lakin. Peace Love Makeup has been lovely enough to give one lucky reader the chance to win a beautiful gift pack...
7 tags
REVIEW: Two Lip Saviours
As the weather cools down, so does skin's moisture levels, and my lips are always the first to feel it. After a week of suffering red, chapped lips, I finally rummaged through my bathroom drawer to find a lip balm by 1Skin Solution and a Shizen Lip Hydrating Serum. I used the lip balm by day, which delivered instant hydration and left lips glossy & plump (with a delicious vanilla...
4 tags
2 tags
GIVEAWAY: Neom Organics
Next up in The Clean Beauty Blog's month of giveaways are some gorgeous treats from the super scent magicians at Neom Organics! I'm constantly burning one of Neom's divine candles around the house, and they recently relaunched their limited edition 'Sensuous' scent in a body wash, body lotion, hand wash & hand lotion. The Sensuous scent is a heady blend of ylang...
6 tags
RADAR: What's Your Skin Eating?
Source: ecomom.com via The Clean Beauty on Pinterest
6 tags
GIVEAWAY: Planet Eve Organics
The Clean Beauty Blog recently hit 50,000 followers - so what better way to celebrate than with a giveaway of some of my favourite clean beauty products?! To kick things off we have the wonderful Australian brand Planet Eve Organics (hot on the heels from winning a coveted Glosscar!): Planet Eve Organics' products are 100 per cent naturally derived and processed, and it takes your skin...
demonsatbay asked: Do you have any suggestions of any kind of foundation that doesn't feel like my face is drowning in piles of makeup. Or maybe a moisturizer that helps my face fix the flaws. I have redness on my face,some tiny annoying bumps and I get oily and flaky around my nose area. I also have the worst dark circles ever,if there's anything that can help them go away,I would greatly appreciate it!
4 tags
7 tags
CLEAN REGIME: Jessica Ainscough aka The Wellness...
I'm excited and humbled to introduce you to the wonderful, inspirational, cancer-kicker Jess Ainscough for today's Clean Regime. Jess Ainscough is a writer, holistic health coach, and the creator of the health and wellness website, The Wellness Warrior. Via her e-books, daily blog posts, and videos, Jess' goal is to empower people to take control of their health and show that the...
9 tags
HOW TO: Wing It
I have a love/hate relationship with winged liner: love the look, hate the application. I used to end up looking more flustered than feline, but then I discovered angled eyeliner brushes used with a cake eyeliner. These will change your life (well, maybe not. But your liner at least). Another brilliant tip - use concealer to create shape and clean the line. With hints like these you'll...
8 tags
REVIEW: MV Organics Gentle Cream Cleanser
What: The perfect cleanser.  For: Removing makeup and impurities. For all skin types.  Review: There are a few products that I use so regularly that I take them for granted and forget to focus on them with a review. MV Organics Gentle Cream Cleanser is one of them. This is the perfect cleanser. Thoroughly cleanses makeup? Tick. Removes impurities and keeps breakouts at bay? Tick. Leaves skin...
7 tags
GET THE LOOK: Party Lips
Saturday night + swipe of Ilia Pure Lip Care in Dizzy = perfect party lips! 
6 tags
CHAMELEON: Natalia Vodianova
If Elle Macpherson is The Body, Natalia Vodianova is The Face… she is just breathtakingly beautiful! 
8 tags
BASICS: Organising Makeup
Today's clean beauty post isn't about the parabens - instead, it's all about the presentation. That's right, we're organising our beauty stashes. Banish bedraggled makeup bags and be inspired by these chic ideas for beautiful organisation - you'll be lining up your lipsticks in no time.   Trays Even the most chaotic collection looks manicured when arranged on...
6 tags
CLEAN EATS: The Easiest, Healthiest Weekday Dinner
It's been a while since I last posted about my I Quit Sugar journey. In summary, the update is that I have kicked my mid-afternoon Caramello cravings and developed an addiction to Pukka tea, and whilst I am not as super sugar vigilant as I was initially (I eat fruit a few times a week, and when I eat out I usually have dessert), sugar is no longer an accepted part of my diet but rather...
7 tags
REVIEW: Atlantis Hair for O&M
Nestled amongst terraces in the leafy backstreets of Paddington, last week I trekked my way up a damp, grey Oxford Street to Atlantis Hair. After a horrendous week at work I arrived wet, tired, and cranky, and although I was feeling far from my perkiest I was determined to keep my long anticipated appointment at Atlantis to try out the latest cult haircare range, O&M (Original &...
8 tags
9 tags
REVIEW: Vapour Organic Beauty Clarity Makeup...
What: Makeup remover and cleanser.  For: All skin types, particularly dry or sensitive skin.  Review: I'm all about oils these days - oils to cleanse, oils to moisturise, even oils to eat! This cleansing oil by Vapour Organics is a nice addition to my  oily routine, as it is brilliant for removing makeup & thoroughly cleansing without stripping skin. Skin nourishing ingredients...
8 tags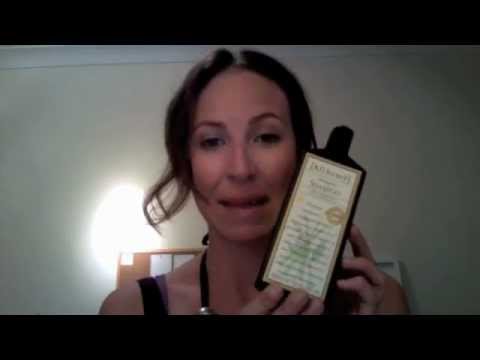 1 tag
windmelodies asked: What product and brand may I use to keep my face without acne? I've been ussing the Clean & Clear line and it usually works, except when I'm in "those" days... stupid hormones. got any suggestion?
6 tags
CLEAN PEAK: Health Food Shop Haul
After a late brunch yesterday I wandered into a great little shop that stocked organic beauty products, delicious herbal teas, and chemical free cleaning products. Here's a peek into what I picked up:  Cinderella Multi-Purpose Spray in 'Mint' - I cleaned the kitchen & tiled floor this morning using this (why yes, I do lead an exciting life) and it did a stellar job, and...
1 tag
Anonymous asked: Hi, I love organic products, because my skin is extremely sensitive. If you put anything with chemicals on it, I break out and my skin starts peeling. :( I've been looking for a switch from my daytime moisturizer, do you have any suggestions for me? :D I've been using olive oil at night, but I think if I used it first thing in the morning, my skin might get too oily.
3 tags
RADAR: In Spaces Between
I don't usually write about other blogs, but I just wanted to draw everyone's attention to the beautiful In Spaces Between. Rachel, the author of the site, writes with honesty, warmth, and vitality, and it's just such a pleasure to read her posts. The subject matter varies from recipes to weddings to style to good living, and I devour every word! Her latest post lifted me...
12 tags
7 tags
REVIEW: Kimia Exquisite Rejuvenating Facial System
What: A two-step system with an oil & 'activating mist'.  For: Mature or prematurely aging skin, dry skin, or just skin in need of a dose of goodness! Review: Describing itself as 'exquisite' and 'rejuvenating', my expectations of the Kimia Facial System were very high before I even opened the box. Thankfully, Kimia seems to be one of those rare brands...
4 tags